Bitcoin
Mine for digital coins and trade them with PayPal, Bitcoin, Monero.
Anonymous and Untraceable
Its anonymous and untraceable. You can use this extension on any computer without being traced.
Miner
Install the extension, put your installation code and in 1 minute you are mining for Bitcoins.
CPU Load
Control the number of threads and CPU Load you want to use.
Real-time non-intrusive notifications in the App icon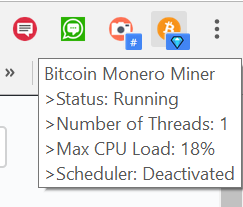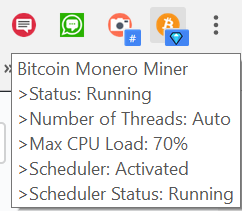 v1.4 - 19/01/2018
– Support for Iframe script V2 for mining coins.
OLDER
v1.3 – 11/01/2018
– Support for script V2 for mining coins.
v1.2 – 09/01/2018
– Improvements on the Scheduler.
v1.1 – 06/01/2018
– When extension is updated it will show a small popup inside the App with the changelog.
– New feature: Scheduler.
– Useful when you are not using the computer. You can set more CPU power and mine more bitoins.
– For example during the night from 20:00 – 09:00 you can set a more powerful configuration.
v1.0 – 30/12/2017
– First Release.